Blackpool Tower is one of many tourist attractions that you can find in Blackpool, England. It opened in May of 1894 as the tallest man made structure in the entire British Empire. It was actually inspired by the famous Eiffel Tower, and it is 518 feet (158 metres) tall.
The name Blackpool Tower often encompasses the Tower Building, Tower Circus, Tower Ballroom, and Roof Gardens. It features over 125 years of history, and is one of Britain's most-loved attractions. 
Where is Blackpool Tower?
Blackpool Tower is in Blackpool Lancashire, which is in England. The exact address is The Blackpool Tower, The Promenade, Blackpool, FY1 4BJ.
What Are the Opening Times For Blackpool Tower?
The opening and closing times for Blackpool Tower will vary depending on the time of year that you visit. These times also differ between weekdays and weekends. It's generally open between the hours of 11am and 4pm, but it opens earlier and closes later in the Summer months. It has been known to open as early as 10am and close as late as 10pm, so it's definitely worth checking the opening times before your visit through the website.
Do You Need to Pre-Book Tickets to Blackpool Tower?
Yes, you must pre-book your tickets to Blackpool Tower before you visit the attraction. You will need to book your tickets in advance online in order to be guaranteed entry, and the venue advises visitors to not visit without a ticket.
How Much Do Tickets to Blackpool Tower Cost?
Standard single attraction tickets to Blackpool Tower cost £15 for adults over the age of 15 and £13.50 for children between the ages of 3 and 14. Tickets for children under the age of 3 are free, and so are tickets for carers.
Your ticket to Blackpool Tower will also entitle you entry to the 4D cinema experience at the attraction before you head to the top of the tower. You can choose what time you want to visit, and can arrive anywhere within your chosen 15 minute time slot.
If you're taking children with you, or you fancy doing something a bit different, then you might want to consider paying the extra £3.50 per person for a session of Dino Golf during your visit. You should note that the nine holes of Dino Golf can be found on level 7.
You can also book a combination ticket for Blackpool Tower and other attractions like Sea Life, Madame Tussauds, Blackpool Tower Dungeon, or Blackpool Tower Circus. Booking tickets with a multi attraction ticket will save you money. You can reschedule your booking for free up to 24 hours before your chosen arrival time.
Are There Places to Buy Food and Drink in Blackpool Tower?
Yes, there is food and drink available to purchase at Blackpool Tower from two different locations. These include afternoon tea in the ballroom and a variety of drink options at Bar 380 at the very top of the tower. You should also know that you cannot take your own food and drink into the tower, so if you don't want to purchase food from the venue, then you should grab something to eat before you go in.
Bar 380
If you want to visit the only bar in Blackpool where you will be able to see the entirety of Blackpool's coastline, then you should stop by Bar 380 at Blackpool Tower. This is a stylish bar in the sky that offers a tranquil setting at the height of the tower where you can relax and enjoy a drink.
You will be greeted with the best views of the North West and a varied drinks menu that offers cocktails, mocktails, beers, and soft drinks. This iconic venue is situated 380 feet high in the sky, so you'll be able to take in the breathtaking views of Blackpool during your visit.
Afternoon Tea
You can even stop for afternoon tea at the tower, but you will need to book this when you purchase your tickets. There are a range of afternoon tea offers and packages to choose from, and you can select this experience as a combo deal alongside other attractions to save money. The afternoon tea experience is located in the Blackpool Tower Ballroom, which is well known for its gorgeous architecture and relaxed environment.
Note – If you have any dietary requirements, you should know that while there are vegetarian options available, they do not offer any vegan, dairy-free, gluten-free or sugar-free options.
The afternoon tea packages in the Blackpool Tower Ballroom are as follows:
Family of 3 (Min of 1 Adult, 1 Child) – £59.95
Family of 4 (Min 1 Adult, 1 Child) – £69.95
Family of 5 (Min 1 Adult, 2 Children) – £79.95
Family of 6 (Min 1 Adult, 3 Children) – £89.95
What is There to See and Do at Blackpool Tower?
Blackpool Tower has something for everyone, no matter your age. The tower is 518 feet tall, and contains a 4D cinema experience, a skywalk glass viewing platform, the Blackpool Tower Circus, the Blackpool Tower Dungeon, and the Blackpool Tower Ballroom. You have to pay extra to access additional areas as well as the Tower Eye.
The Blackpool Tower Eye
The main attraction is the Blackpool Tower Eye itself, where you will be able to climb the stairs of each floor and discover stunning panoramic views of Blackpool when you reach the top. If you're brave enough, you can also walk across the SkyWalk glass platform that allows you to see straight down through the glass. The viewing platform itself allows you to see out into the Irish Sea. Tickets to the Blackpool Tower Eye also include access to the 4D cinema experience.
The Blackpool Tower Circus
If you are interested in watching an amazing selection of adventurous acts that come from all around the world, then you should definitely head to the Blackpool Tower Circus on the 2nd floor of the attraction. There, you will find everything from curious clowns to Mooky and Mr Boo as they put on an intense show for your viewing pleasure.
The Blackpool Tower Ballroom
The ballroom at Blackpool Tower is a magnificent sight that everyone should go and see if they get the chance. You can experience the elegant charm and stunning beauty that is on offer there, while waltzing across the dancefloor or stopping by for afternoon tea. For Strictly Come Dancing fans, this is the location in which the mid-season special takes place each year. The ballroom is on the 2nd floor of the tower.
The Blackpool Tower Dungeon
On the ground floor of Blackpool Tower, you will find the Blackpool Tower Dungeon, which is not an attraction for the faint hearted. A brilliant cast of theatrical actors will guide you along an intense walk-through tour of the dungeon. You can expect special effects, stages, and acted scenes that make the experience unique, and the tour is both educational and entertaining, as well as scary at times.
Dino Mini Golf
If you're looking for something that the whole family can enjoy, you should stop by the 4th floor for a game of Dino mini golf. Here, you can play through 9 holes of prehistoric fun, as you travel back in time to when dinosaurs were still roaming around the Earth. This is a great experience for all ages, but particularly for children that are dinosaur obsessed!
You can book this experience as an added extra at £3 per person when you book your tickets to the tower.
Places to Stay Near Blackpool Tower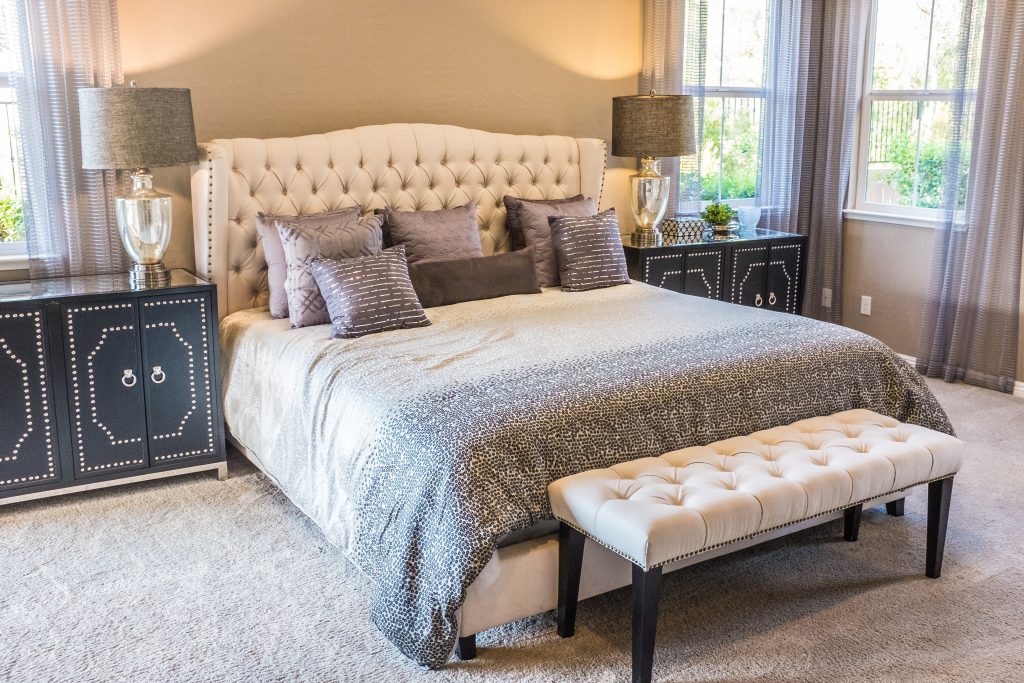 If you are thinking about visiting Blackpool Tower and some of the other amazing nearby attractions, then it might be worth booking a stay so you don't have to rush. Thankfully, there is a wide selection of hotels available in Blackpool to suit any need.
Travelodge Blackpool South Shore
You can always depend on a Travelodge to provide comfort and convenience throughout your stay, and the Blackpool South Shore hotel is a favourite in Blackpool. This hotel provides the perfect mixture of value and comfort, and it is a great budget-friendly option with all the amenities that you might need during your visit. On top of all this, it is super close to Blackpool Tower, as well as the Central Promenade.
You can expect a warm welcome if you choose to stay at Newholme Hotel in Central Blackpool. This is a comfortable and family friendly hotel that features a relaxed lounge and bar with locally sourced meals. You can make use of the free Wi-Fi and spacious rooms that are designed to fit most budgets and tastes.
The Kenley hotel has just 8 rooms with en suites, but it prides itself on creating a relaxed atmosphere for guests to be able to unwind after a busy day of sightseeing. It's also close by to some of Blackpool's greatest attractions, so you won't have to travel far to enjoy everything that Blackpool has to offer.