Weald & Downland Living Museum is an award-winning museum that spans over forty acres in the heart of the Sussex countryside. The museum opened its doors in 1970 and contains fifty buildings in total with a combined history of over a thousand years.
There is a fantastic collection of items on display throughout the museum, relating to rural life. including agriculture, domestic life, trades and industries, and transportation. There are also period gardens, traditional farm animals, and a millpond to be found at this location.
Lots of the buildings at Weald & Downland have been donated, and a great deal of care has been taken to dismantle the structures and reassemble them at this location. You will see a variety of interesting buildings throughout the museum, including a Saxon hall reconstruction. There are also real working buildings from the late nineteenth century and everything in between.
Where is the Weald & Downland Living Museum?
Weald & Downland Living Museum, previously known as the Weald & Downland Open Air Museum, is located in the South Downs National Park in West Sussex. The address is: Town Lane, Singleton, West Sussex, PO18 0EU.
What Are the Opening Hours for Weald & Downland Living Museum?
The Museum is open daily from the 3rd of January to the 23rd of December, and again from the 26th to the 27th of December.
The regular opening hours are from 10.30am to 4pm, however, the venue is open until 6pm during British summertime. The cafe opens from 10am to 4pm, with hot food available until 3pm. Some of the stewarded houses close at 3pm and the gift shop closes 30 minutes before the Museum closes.
How Much Are Tickets to Weald & Downland Living Museum?
The prices shown include a Gift Aid donation, and the regular entrance fee is shown in brackets.
Adults £17.50 (£15.50)
Adults 60+ £15.00 (£13.50)
Concession £15.00 (£13.50) A valid NHS, Armed Forces and Emergency Services ID is required
Student 18+ £13.50 (£12.00) Student ID required
Children 5–17 years / full-time students £8.50 (£7.50)
Family: 2 adults and up to 3 children £46.50 (£42.00)
Family: 1 adult and up to 3 children £30.50 (£27.50)
Grandparent pass: 2 adults 60+ and up to 3 children £44.50 (£40.00)
Grandparent pass: 1 adult 60+ and up to 3 children £29.00 (£26.50)
Disabled and single helper £8.80 (£8.00)
Children aged 4 and under go free
Free parking
Weald & Downland Living Museum is a registered charity, so they do encourage visitors to make a Gift Aid donation in addition to the entrance fee. Your Gift Aid donation is voluntary and allows the museum to claim an additional 25% from the government. If you are not a UK taxpayer you will need to inform them when purchasing a ticket.
Unless otherwise stated, admission to historic life weekends and family activities is included in the regular admission price. Events which are marked as ticketed will require pre-booking due to limited availability. These tickets are individually priced, these events are also not included in the annual membership. You can purchase tickets in advance via the website.
Can You Buy Food At Weald & Downland Living Museum?
Yes, you can buy food at weald & downland. There is a cafe at this location which is situated near the millpond. The cafe has two seating options available. Inside, which is also dog friendly and outside on the decking overlooking the pond.
There are plenty of food choices available at the care, including hot and cold food, cakes, and ice creams. Hot food is served all day until 3pm. Snacks, drinks and ice creams are available from the counter right up until closing.
The cafe is quite unique as they use stone-ground flour that is milled at the 17th century watermill within the museum. They are also able to cater to specific dietary requirements including substituting for gluten-free, vegetarian or vegan options.
What Can You See at Weald & Downland Living Museum?
The Repair Shop
The popular TV show The Repair Shop is filmed at Weald & Downland Living Museum. When filming is not taking place, visitors can take a sneak peek inside the repair shop barn. The cast and crew will not be present when the barn is open to visitors.
Houses and cottages
You can see many traditional houses, each of which tells the story of the people who lived there. Most of the buildings on this site are furnished to the style of the time, giving you an idea of what life would have been like during those periods. You can see the many changes that happened as the houses became more modernised. For example, central open fires were moved to the side of a room and chimneys were introduced.
Public Buildings – communal spaces & structures
Communal spaces were important in every community because they allowed people to come together. Lots of the buildings were multi-purpose, Titchfield market hall for example was used for selling wares, a lock-up for offenders, and the private upper chamber would have been used for meetings.
Working buildings – craft & trade buildings
Located on the Museum grounds, is a diverse collection of buildings that represent various crafts and trades practised by the people who lived in this region. Among them are working buildings like the watermill, which is still used to mill grain into flour, and the bakehouse, which is still used to bake bread. All of the working buildings at this living museum would have been essential in the local community.
Farm Buildings – barns, granaries, sheds & more
One of the most important buildings on a farm was the barn, which was used for a variety of purposes, including threshing out the grain and storing unthreshed sheaves and threshed straw, among other things.
There is a collection of cattle sheds and cart sheds on display throughout the Museum some of which date back to the 18th and 19th centuries. Unfortunately, there aren't any earlier examples as they were not built to last.
The granaries on the site date back to the 17th century, and before that, farm produce was usually stored within the house itself. It wasn't unusual during this period for animals to be housed inside the house as well. You can see some of the earlier houses are sectioned. Animals and produce were usually at one end of the house and living and sleeping quarters were at the other end.
Places to Stay Near Weald & Downland Living Museum
When visiting this location, I highly recommend staying for a couple of days. This particular attraction can be completed in a day, but there is another attraction not too far away that is complementary to this one. Butser Ancient Farm is an experimental archaeology site with houses ranging from the stone age right through to the Saxon period. Butser Ancient Farm comes to an end at the point where Weald & Downland begins, so I highly recommend visiting Butser Ancient Farm first.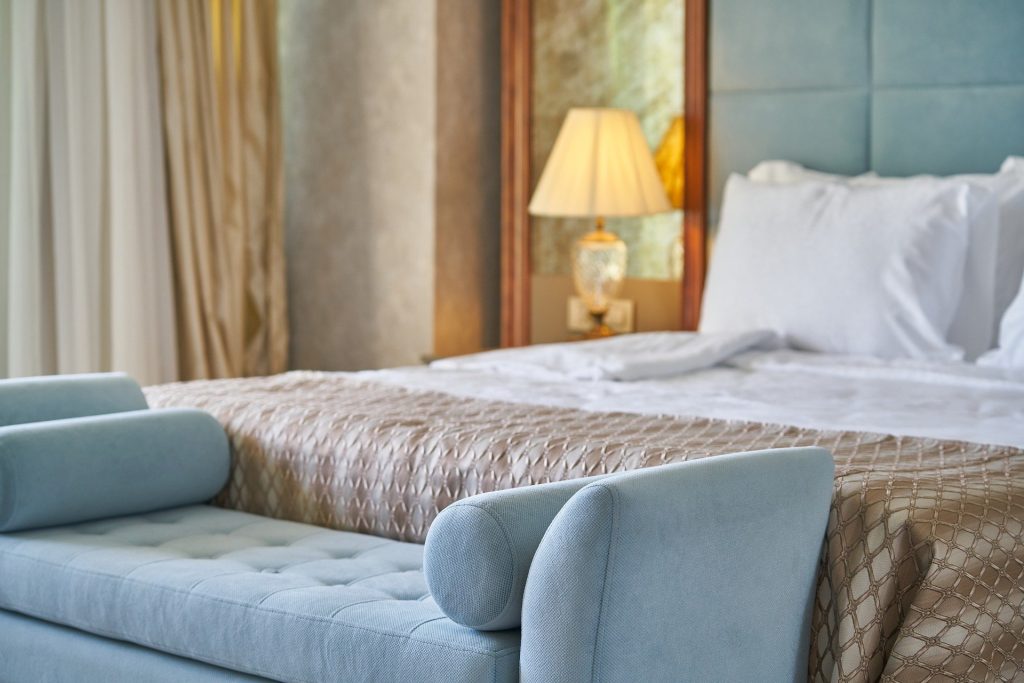 The Goodwood Hotel is situated on the magnificent 12,000-acre Goodwood Estate and has 91 rooms. Guests have free access to the Health Club, which includes a 14-metre indoor pool, Waterbeach treatment rooms, sauna, steam room, gymnasium and fitness studio, and tennis courts. Guests can also enjoy free wifi and parking, as well as golf.
Chichester South Hotel (Gate Leisure Park)
The Premier Inn Chichester South (Gate Leisure Park) is perfectly situated for visiting the festival theatre, quaint shops, and other historic sites. The Cathedral is only a short walk away, and you can visit Portsmouth or Brighton during your stay. Take a walk along West Wittering's beautiful sands, or enjoy dinner at the Thyme restaurant before returning to your modern and comfy room. Your room has flat-screen TV, tea & coffee facilities and free wifi. Breakfast is available at an additional cost.
Crouchers Hotel is a converted farmhouse from the early 1900s that has 26 rooms in the coach house, barn, and stables. The main house contains the oaked-beamed restaurant, a relaxing bar area, and a lounge area for guests. Staff are always on hand to ensure that you are well taken care of during your stay. The room features a flat-screen TV, tea and coffee facilities and free wifi. There is also free parking available on site.
Our Visit to Weald & Downland Living Museum
We had a fantastic day at Weald & Downland Living Museum; there is so much to see and learn about, as well as many interesting buildings to explore. I love that you can go inside the houses and even go upstairs.
The entrance fee was very reasonable considering the size of this attraction and what is there. We received an email after our visit offering to upgrade our ticket to an annual pass by deducting the amount we had already paid, which, if you live in the area, is well worth it.
You could easily spend the entire day here, stopping for lunch either in the cafe or packing a picnic and sitting on the grass by the lake. Weald & Downland is significantly larger than I had anticipated, and we were exhausted by the time we finished. However, there are numerous places to stop along the way, which we took full advantage of on our way around.
I strongly recommend that you purchase the guidebook. It is a little on the expensive side at £23 but it is packed full of information about the houses and the history of Weald & Downland Living Museum.
It would have been nice to see people in period costumes, one of the volunteers mentioned pre covid they did so hopefully they bring them back. All in all, we had a brilliant day at the museum and if we ever visit Portsmouth again we will be sure to pay a visit to Weald & Downland Living Museum.