Madame Tussauds Blackpool is one of two Madame Tussauds museums in the UK. The attraction first opened up in 2011, and it is home to more than 80 wax figures of different celebrities, TV and movie characters, athletes, and musicians.
This attraction offers a celebrity experience like no other, and for many people, it's the closest they will ever get to their favourite stars and icons. It's located just down the promenade, not far from some of Blackpool's other great attractions.
Where is Madame Tussauds Blackpool?
Madame Tussauds Blackpool can be found in Blackpool in the United Kingdom. The exact address for this attraction is 89 Promenade, Lancashire FY1 5AA. It replaced the previous attraction called Louis Tussauds Waxworks, and first opened its doors to customers in 2011,
What Can You See At Madame Tussauds Blackpool?
Madame Tussauds Blackpool is the place to be if you want to get up close and personal with wax figures of your favourite celebrities. You can see the Doctor and their TARDIS, your favourite pop stars, the royal family, the Avengers team, and so much more.
There is something here for people of all ages to enjoy. You can stop in the Rovers from Coronation Street for a pint, see the nation's favourites, Ant and Dec, in the I'm a Celebrity Get Me Out of Here section, or even pose alongside The Beatles.
What Time Does Madame Tussauds Blackpool Open?
On weekdays, Madame Tussauds Blackpool is open from 10am until 3pm. On weekends, the attraction is open from 10am until 5pm. The final admission is 60 minutes before the attraction closes.
How Much Do Tickets to Madame Tussauds Blackpool Cost?
The cost of tickets to Madame Tussauds Blackpool when you pay on the day are below:
Adult (15+ Years) – £19.50
Child (3-14 Years) – £17.50
Under 3 – £0.00
Carer – £0.00
If you were to pre-book your tickets online, you would be able to save some money. You can reschedule your tickets for free up to 24 hours before your booked time slot, which is great if you have a sudden change in plan during your trip. It's also worth being aware that you can book multiple attractions at the same time, which gives you money off.
Some of the other attractions include The Blackpool Tower Eye, The Blackpool Tower Dungeon, and Sea Life. If you are planning to visit any of these other attractions, then it is well worth looking at these packages.
Can You Buy Food and Drink at Madame Tussauds Blackpool?
Yes, you can choose from various food and drink options that are available to purchase at the Rovers Return pub. This is a fully functioning bar, replicating the pub that is famously known from the TV soap Coronation Street.
Can I Take My Own Food and Drink Into Madame Tussauds Blackpool?
Unfortunately, you are not permitted to take your own food and drink into Madame Tussauds Blackpool. Although, as we have already mentioned, there are places where you can purchase food and drink, like the Rovers Return.
Inside Madame Tussauds Blackpool
Inside Madame Tussauds Blackpool, you can find more than 80 different wax figures. Each of them is based on a different person or character, and there are so many there for you to see. Take a look below to find out more about the different types of wax figures that you can find there.
Marvel Hall of Fame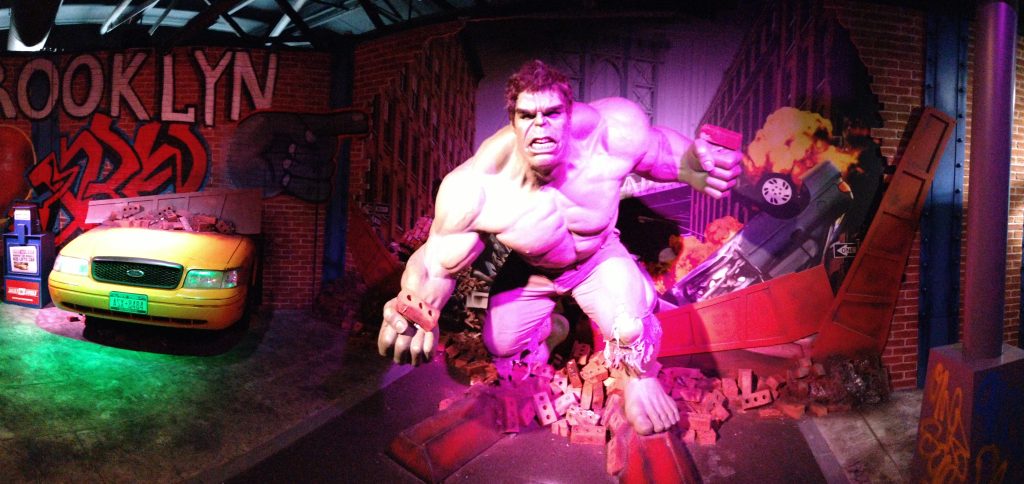 You can step right into the action at the Marvel Hall of Fame and come up close and personal with your favourite comic book and movie heroes. One of the superheroes on display here is Captain Marvel, one of the universe's most powerful heroes. You can also find Thor in an ice cave before attempting to lift his legendary hammer for yourself.
Genius and billionaire Tony Stark is also on show, highlighting his high tech abilities, and someone you won't be able to miss is the Hulk, who is surrounded by chaos and destruction in a New York street. You'll even be given the opportunity to see if you are strong enough to lift a taxi!
Someone that everyone loves is Spiderman, who can be seen underneath an overhead railway in front of a series of skyscrapers. Finally, if you are a Guardians of the Galaxy superfan, you just have to go and see Groot and Rocket Raccoon for yourself, two of the most popular members of the team.
TV Entertainers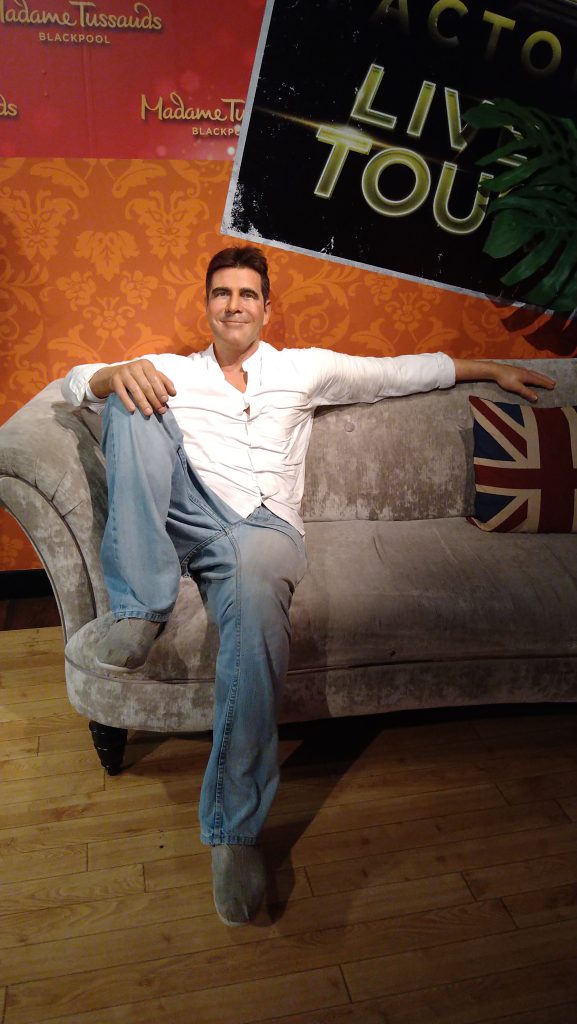 Two people that pretty much everyone in the UK has heard of are TV presenter legends Ant and Dec. You can find this iconic duo in the I'm a Celebrity Get Me Out of Here section of the tour.
An international TV legend that you might want to see is Simon Cowell, the man who has smashed the dreams of millions of people and made dreams come true for countless others. He certainly knows a star when he sees one, but now it's your turn to pick and choose which stars you want to see.
Among the many other TV legends is Bear Grylls, one of the most recognised and famous faces of survival and outdoor adventure. He is known all around the world for his survival TV show, Bear Grylls.
Musicians
You can head on over and see some of the greatest music icons in the world like Ed Sheeran, Ariana Grande, Lady Gaga, and Britney Spears to get some selfies with your favourite artists. You can even see amazing wax recreations of previous singing competition contestants like Olly Murs, Susan Boyles, and Cheryl Cole.
If you're a fan of the classics, then you should definitely keep an eye out for Freddie Mercury, who is best known as the lead vocalist and songwriter for the rock band Queen. Alternatively, you can see the Beatles in one of their most iconic poses, or the beloved Michael Jackson, the king of pop and one of the most creative pop music artists there has ever been.
Doctor Who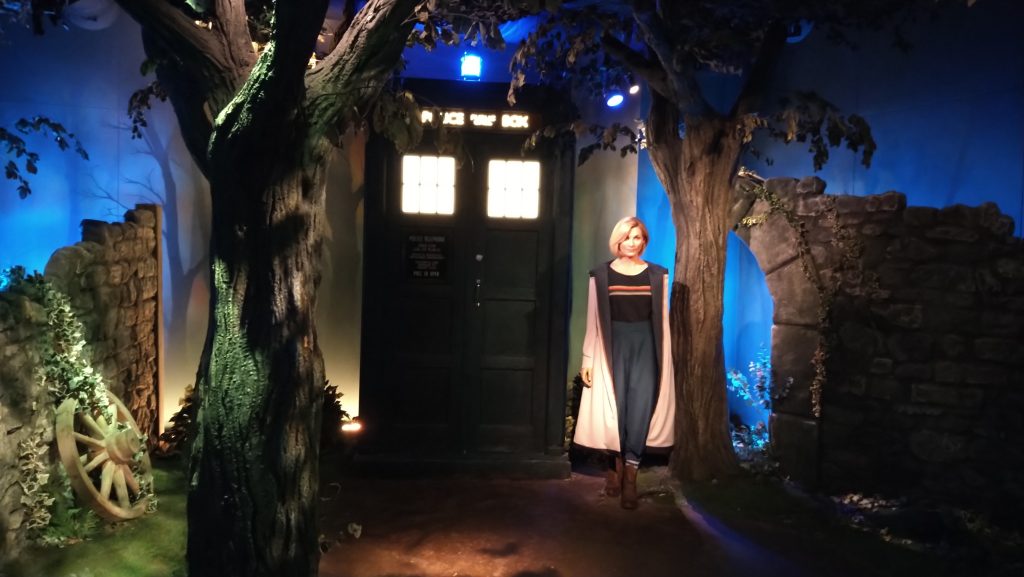 Have you ever wanted to meet the Thirteenth Doctor and her TARDIS? Well, now's your chance. You can immerse yourself in the Doctor Who section of the tour and if you're brave enough, come face to face with one of the Doctor's most frightening enemies, the Weeping Angel.
The Royal Family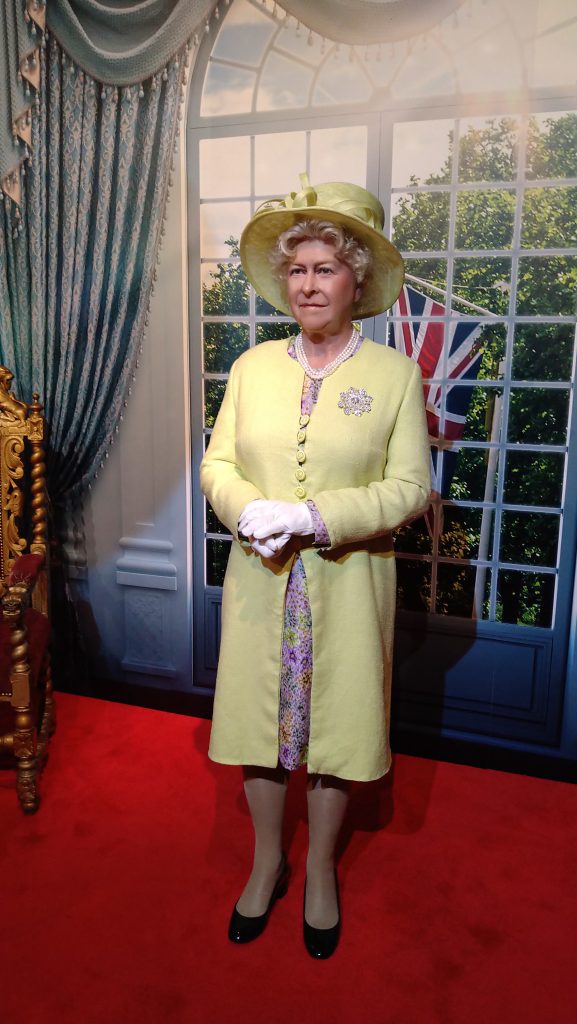 Whether you are British or not, you have most likely heard of the Royal Family. At Madame Tussauds Blackpool, you can see Her Majesty the Queen herself. Other royals that you can see include the Duke and Duchess of Cambridge, who can be found wearing replica outfits from their very first outing as a married couple.
Coronation Street and the Rovers Return Pub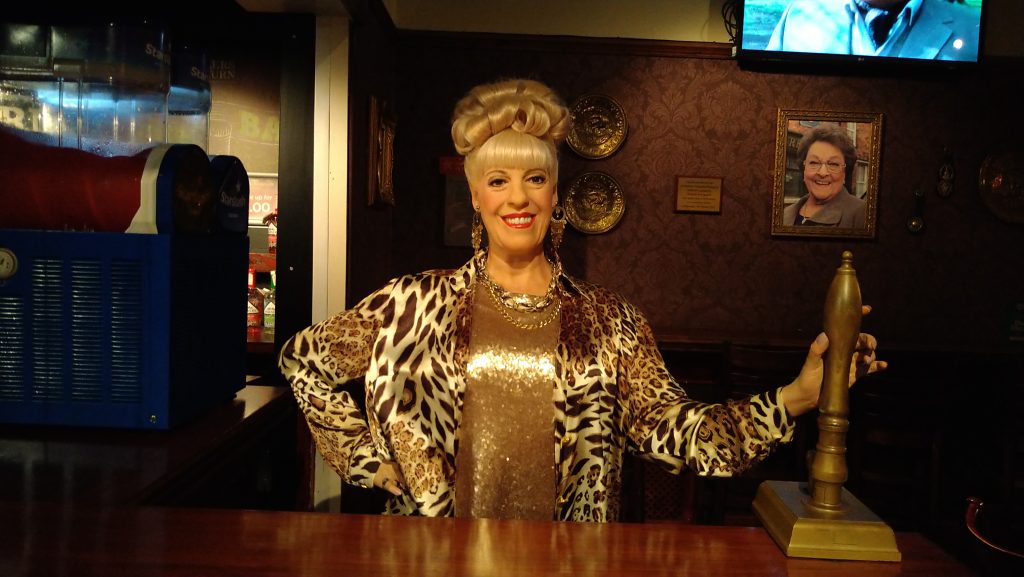 Are you a fan of watching the nation's favourite soaps? If so, Madame Tussauds Blackpool should definitely be on your list of places to visit. Around half way through your adventure, you can stroll down the famous Coronation Street before entering the Rovers Return pub to meet some stars from the show.
One of the best things about this location is that the Rovers Return features a fully functioning bar, so you can stop off along your journey for a refreshing drink among some of Coronation Street's most famous stars.
You're bound to have heard of some of these famous TV characters, like Ken and Deidre Barlow, who are some of the most long standing characters in Coronation Street, played by William Roache and Anne Kirkbride. Interestingly, Ken Barlow is the only surviving character from episode one of the show.
You can also pull a pint with Bet Lynch, famous for the line ''I've got tights older than you love'' and played by Julie Goodyear. Two other classic characters here and one of the best known couples in television history are Jack and Vera Duckworth. Finally, you can see Michelle Connor, played by Kym Marsh, as well as Hilda Ogden.
Places to Stay in Near Madame Tussauds Blackpool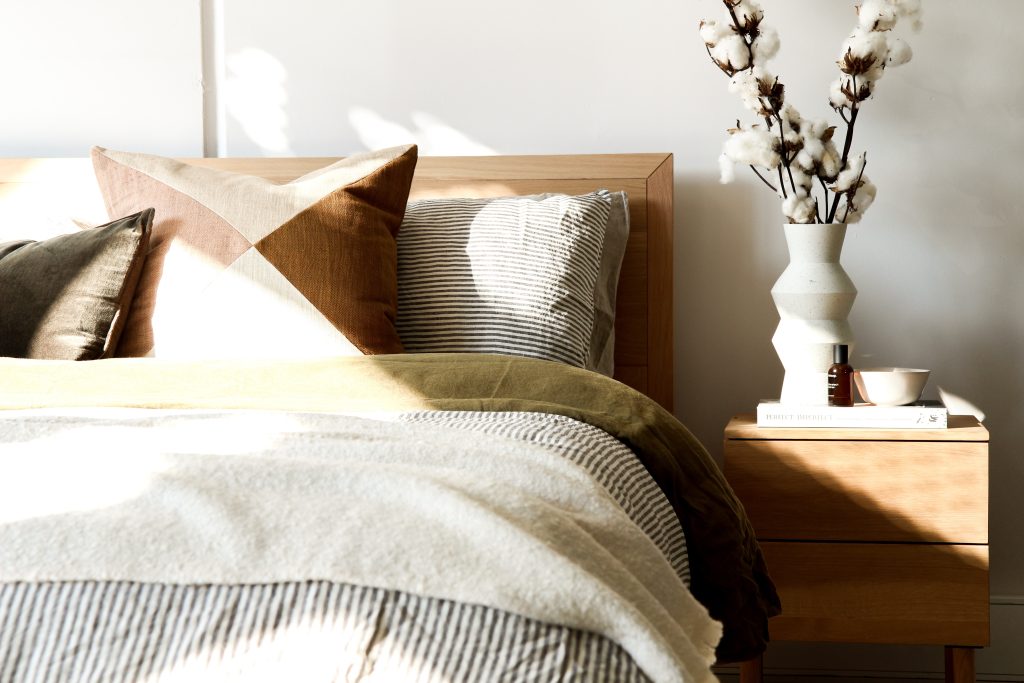 If there are a few attractions that you want to see in Blackpool other than Madame Tussauds, then you'll probably want to book a place to stay in the area rather than trying to cram it all into one day.
Travelodge Blackpool South Shore
Travelodge Blackpool South Shore isn't far from Madame Tussauds Blackpool, and it is a popular choice for travellers that are staying in Blackpool. This hotel provides the perfect mixture of comfort, value, and convenience at a reasonable price.
With excellent restaurant facilities and a Roly's bar, the Ruskin Hotel combines great food and drink with the highest standards of comfort and service for their guests. They offer 24/7 reception and room service, as well as free super fast fibre broadband.
This hotel is in a landmark location and it is home to more than 70 rooms. Blackpool FC pride themselves on offering some of the finest facilities on the Fylde Coast, and customers are able to choose between luxury suites or family bedrooms, depending on their needs.
Our Visit to Madame Tussauds Blackpool
We went on a family outing to Madame Tussauds Blackpool while we were in the area on holiday, and we spent a good few hours there. The tour lasts around 90 minutes, but if you want to take your time and get photos with all of your favourite celebrities and stop off for some food and a drink along the way, then you can easily spend between 2 and 3 hours here.
This was our first Madame Tussauds experience, and we all thoroughly enjoyed it. As a family between the ages of 12 and 43, there really was something here for everyone to enjoy. One of the highlights for the adults was stopping for a pint in the Rovers Return Pub, but I also squealed like a child when we walked into the Doctor Who section.
We didn't have food there, but the prices were what you would expect from an attraction, while not being too unreasonable. Something else that was really convenient is that it's not far from other attractions, like Sea Life. Overall, we would all highly recommend visiting Madame Tussauds Blackpool during your stay.